COVID-19 Cleansing Products
In response to COVID-19, CBD American Shaman has re-purposed our factories to create medical grade cleansing wash and cleansing gel for your homes and businesses. The below products are available in-store but can be delivered or shipped. Give us a call at 817-900-6060 to help us better understand your needs.
Our EPA approved cleansing wash, combines Electrolyzed Oxygenated H20 and Hypochlorous Acid to create a solution that can cleanse a myriad of items. Cleansing Wash can be applied to surfaces, food & produce and your skin. For those of you accustomed to Hand Sanitizer, the solution is not water-based versus gel-based. However, our cleansing wash is equally as potent. Check out what the EPA has to say about Hypochlorous Acid here.
Our EPA approved cleansing gel, combines Hypochlorous acid and Ethyl Alcohol. Our cleansing gel better resembles the typical Hand Sanitizer feel. This solution can be used on your skin or on surfaces as required. We recommend the cleansing gel for everyday use at the home and office. We have samples in-store or our associates can provide more information on the gel if required.
Both our cleansing wash and cleansing gel are available in gallon sizes. If you would like to place a bulk order, give us a call or email us at info@cbdsouthlaketx.com.
Our Hand Sanitizer are available in both gallon sized and 8 oz sized options. Our Hand Sanitizer is FDA approved with an 80% alcohol composition.
This kit will allow you to offer a professional way for organizations to use hypochlorous acid wash and be able to spray down areas quickly and efficiently.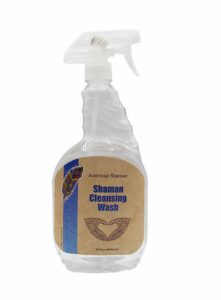 This Shaman Cleansing Wash is made from hypochlorous acid and is a game-changer in the ability to sanitize. This size is a 32 oz bottle that allows you to easily cleans surfaces in your home. This comes with the pump / spray nozzle.
This is a packaged hand sanitizer deal that comes with a professionally designed display box for in-store display.
GET 15% OFF
We respect your privacy. Your information is safe and will never be shared.